Scientists have been documenting rare phenomenon in recent years: streaks of red lightning that resemble the tentacles of a glowing crimson jellyfish hanging high from the sky.
These haunting spurts of lightning have been dubbed "sprites," and are the product of super-fast electrical bursts that occur high up in the atmosphere some 37 to 50 miles in the sky, reaching toward space, according to the European Space Agency.
While sprites have been sighted over every continent besides Antarctica since their discovery in 1989, the phenomenon still isn't very well known – they last mere tenths of a second, and generally are hidden from those of us on the ground by heavy storm clouds.
Stephen Hummel, an expert on dark skies at the Austin McDonald Observatory, managed to capture a perfect photo of these sprites on July 2 from his vantage point on a ridge on Mount Locke in the Davis Mountains of West Texas.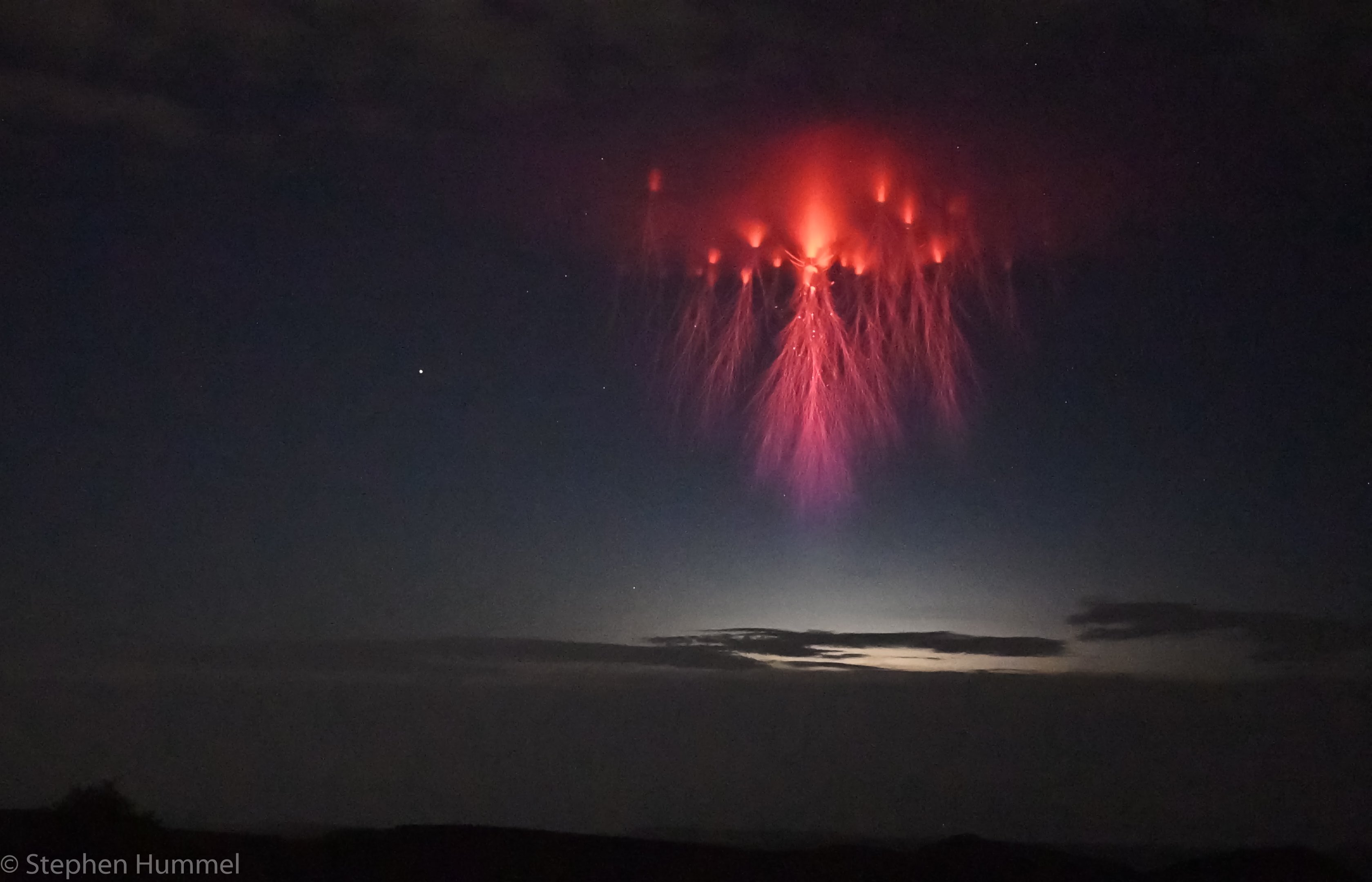 Hummel snapped the photo while he was recording dozens of hours of footage throughout the year. On that July night, he had already recorded four and a half hours of footage before capturing the sprite – and he had also recorded some 70 hours of footage and stills including 70 sprites this year, he told Business Insider.
"Sprites usually appear to the eye as very brief, dim, grey structures. You need to be looking for them to spot them, and oftentimes I am not certain I actually saw one until I check the camera footage to confirm," Hummel said.
Sprites often resemble alienlike jellyfish-style creatures dangling from the ionosphere, or the layer that lies just above the dense lower atmosphere. In other cases, they look like vertical red pillars with thin, curling tendrils – and these are called carrot curls due to their resemblance to the root vegetable.
Sprites are difficult to see from the ground during massive thunderstorms because of the clouds, but also because they happen so far from the Earth's surface – however, they are far easier to observe from the International Space Station.
Here's some sprite lightning as photographed from the International Space Station in August 2015. City lights in an orbital blur, a flash of red, stars everywhere. It is so unbelievably cool we get to live on this planet. (credit: NASA/Expedition 44) pic.twitter.com/G1Ie7Z4II7

— Adrienne LaFrance (@AdrienneLaF) August 15, 2020
Sprites were given their magical name by late University of Alaska physics professor Davis Sentman, who devised the name for this weather phenomenon due to it being "well suited to describe their appearance" and fleeting, fairy-like nature.
In some cases, the jellyfish sprites can be absolutely massive, with Hummel's recent photograph depicting ones that tower "probably around 30 miles long and 30 miles tall," he said. In some cases, the massive glowing tentacles be seen upwards of 300 miles away.
However, no all thunderstorms produce sprites – instead, they occur when lightning strikes the ground, releasing positive electrical energy that requires balancing by an equal and oppositely charged electrical discharge into the sky. The sprites also occur much higher into the sky than regular lightning, which strikes in between electrically charged air, clouds, and our planet's surface.
"The more powerful the storm and the more lightning it produces, the more likely it is to produce a sprite," Hummel noted.
The red glow of the sprite is a result of nitrogen gas high in the atmosphere getting excited by the bursts of electricity resulting from lightning strikes.
As a sprite sparks, it turns red because of nitrogen floating high in Earth's atmosphere. The gas gets excited by the burst of electricity and emits a red glow.
» Source