After a 12-day tour through five Asian countries where he discussed the threat posed by North Korea and how America might shrink its massive trade deficits, President Donald Trump is heading back to the US Tuesday. And in true Trump fashion, the president hinted that he would be making a "major announcement" upon his return to the states – but offered no clues about what the topic of said "announcement" might be.
Here's the tweet, sent around 1 a.m. Eastern Time:
I will be making a major statement from the @WhiteHouse upon my return to D.C. Time and date to be set.
— Donald J. Trump @realDonaldTrump 1:23 AM – Nov 14, 2017
Of course, there's a lot happening in Washington right now, and Trump's hinted-at announcement could be in reference to one of any number of issues. Will he deliver an update on the administration's position regarding tax reform as two bills that differ in dramatic fashion wend through Congress? Perhaps some type of security announcement? Or the revelation that the US has finally entered into talks with North Korea after Trump adopted a notably softer tone toward his favorite Asian antagonist over the weekend?
There's also the possibility that he could deliver an official statement about Alabama Senate candidate Roy Moore, who Trump previously said should "do the right thing" and step aside if allegations about him having inappropriate sexual contact with a 14-year-old girl turn out to be true?
Shortly before his teaser tweet about the upcoming announcement, the president hinted that he had made some major breakthroughs on behalf of the US's trading relationship in the region, claiming that the US's regional partners now understand that trade deficits "most come down"?
After my tour of Asia, all Countries dealing with us on TRADE know that the rules have changed. The United States has to be treated fairly and in a reciprocal fashion. The massive TRADE deficits must go down quickly!
— Donald J. Trump @realDonaldTrump 12:20 AM – Nov 14, 2017 · Dallas, TX
The president also took the time to thank the staff of the US embassy in the Phillipines for doing such "GREAT WORK" during his visit. Strangely, similar praise for other US embassies in the region was not forthcoming.
THANK YOU to the amazing staff and their families of the United States Embassy in the Philippines. Keep up the GREAT WORK!
— Donald J. Trump @realDonaldTrump 4:11 AM – Nov 14, 2017
He also took a swing at polls that reflect a presidential approval rating below 40%, pointing to a Rassmussen poll that puts his approval rating at a reasonable 46%…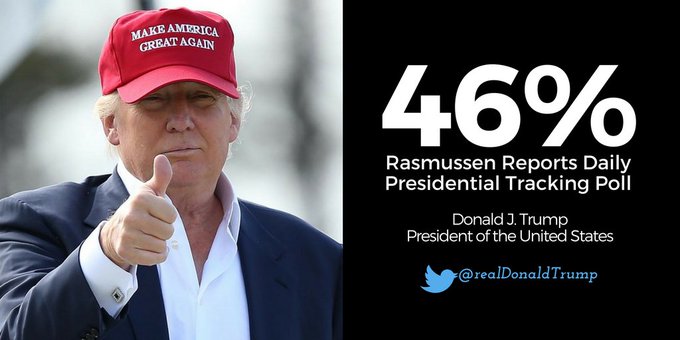 One of the most accurate polls last time around. But #FakeNewslikes to say we're in the 30's. They are wrong. Some people think numbers could be in the 50's. Together, WE will MAKE AMERICA GREAT AGAIN!
— Donald J. Trump @realDonaldTrump 3:07 AM – Nov 14, 2017 · Republic of the Philippines
With the House gearing up to pass its version of the tax reform program on either Thursday or Friday, it's possible Trump could be taking to the bully pulpit to try and whip up votes among intransigent blue-state Republicans. Or the announcement could be on any one of a number of topics. North Korea, trade, tax reform, the upcoming Alabama special election – all are priorities for the White House and the Republican Party right now.
» Source